How to Play EuroMillions Lottery Online
With more than 15 years of history, the EuroMillions lottery is available worldwide through the internet. Even though you are in India, you can bet and receive the same prizes the Europeans do. That's our intention here: to reveal all the possibilities of the online lottery world.
In this article, we will talk more about the lottery EuroMillions and how to play it. All values, prizes and odds, too. You'll also know at what time you should expect its results in India.
Basically, you should join us for the next topics. We are sure you don't know half of the information we are going to provide.
What is the EuroMillions lottery?
The EuroMillions lottery is a European game in which the smaller chances of winning are of 1 in 22. You can play it from India, thanks to the websites we indicate in our best lotteries page. Once you decide, you can begin to play the lottery EuroMillions game and take your chances of becoming a winner.

Is it legal to play it from India?
The EuroMillions lottery is a foreign game, meaning the legislation in your current Indian region doesn't apply. Meanwhile, as a citizen of India, you also won't have problems playing or even withdrawing your money. The only thing you can't do is to play a national lottery in India while living in a state that forbids it.
How to Play EuroMillions from India?
People located in India only have to create a profile and make their first deposit on a reliable website. There, among many other international lottery games, they can find the lotto EuroMillions. Each ticket gives the right to choose a total of seven numbers, divided in the following way:
5 common numbers from 1 to 50.
2 special numbers (Lucky Stars) from 1 to 12.
After buying the ticket, all the player has to do is to wait for the results. The small range for numbers and the incredible number of prizes makes EuroMillions an easy game. The odds of winning this lottery are higher than in Mega Millions, for example.
You can buy as many tickets as you like, keeping in mind the responsibility of your decisions. Make sure also to take a look at other lotteries, widely available on the website of your choice. We selected the best lottery websites for you here at Lotterindia, so don't forget to check them first.
Are there any costs involved?
The only cost the player has to bear is that of the ticket. There are no other fees involved in using the services of international websites to play lotteries such as EuroMillions. However, the payment methods used to deposit and withdraw money, such as bank transfer, can have expenses applied by the institutions.
Therefore, always check with the company or bank responsible for the operations. Their terms might involve some fee or a discount to the exchange rate – as the prize is given in Euros. At the end of the day, it's still a lot of money.
Finally, the prize is always given in full to the lucky winner. It doesn't matter at what tier you won, as long as you followed the rules. Even so, the tax legislation of your region applies – and you'll probably have to pay to receive your prize.
In short, EuroMillions doesn't charge anything other than its ticket price. All the additional costs that might be involved are applied by financial institutions or by your government.
How to buy EuroMillions tickets?
Now that you know how to play EuroMillions, you might still be wondering how to purchase its tickets. That's normal for someone who's never been in touch with online lotteries. If otherwise, know that the process to buy tickets to play EuroMillions is pretty similar to other games.
Simply log-in to the website you decided to play on, using the credentials you registered with. You'll have noticed a cart and a checkout button by now, that's where you'll finish the payment. On your screen and among many lotteries, you'll find the EuroMillions tickets.
You only need to pick the necessary numbers to have a valid ticket. Once the payment is approved, wait for the results or continue to play EuroMillions.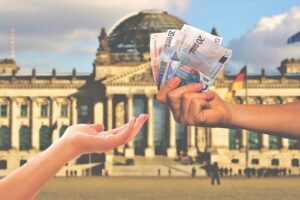 What are the prize tiers?
As mentioned before, there is a total of 13 different prizes. The lowest possible odds of 1 in 22 are for a total of 2 matched numbers and no Lucky Stars. The values will always change, as they are a result of the EuroMillions fund for prizes.
Therefore, we created the table below with the average values:
| Matched | Average Prize (in ₹) | Odds |
| --- | --- | --- |
| Jackpot (5 Numbers + 2 Stars) | ₹4,9 Billion | 1 in 139,838,160 |
| 5 Numbers + 1 Star | ₹35,7 Million | 1 in 6,991,908 |
| 5 Numbers | ₹5 Million | 1 in 3,107,515 |
| 4 Numbers + 2 Stars | ₹272,617 | 1 in 621,503 |
| 4 Numbers + 1 Star | ₹13,559 | 1 in 31,075 |
| 3 Numbers + 2 Stars | ₹8,652 | 1 in 14,125 |
| 4 Numbers | ₹4,732 | 1 in 13,811 |
| 2 Numbers + 2 Stars | ₹1,557 | 1 in 985 |
| 3 Numbers + 1 Star | ₹1,155 | 1 in 706 |
| 3 Numbers | ₹965 | 1 in 314 |
| 1 Number + 2 Stars | ₹833 | 1 in 188 |
| 2 Numbers + 1 Star | ₹637 | 1 in 49 |
| 2 Numbers | ₹347 | 1 in 22 |
The maximum prize, also called the jackpot, is calculated with 50% of the total lottery fund. As for the second higher distribution, that's around 16% of the funds to the lowest prize. The EuroMillions lottery ensures there is always a high amount of money to pay for the jackpot with that strategy.
Can I participate in the Millionaire Maker?
The Millionaire Maker lottery game from EuroMillions is unfortunately exclusive to UK citizens. Differently from the regular draws, which can be awarded to India, that one can't. Therefore, the special draw that awards £1 million is only to those currently living in the United Kingdom.
Even so, notice that you can receive an average prize of €61,369,620.00 for the jackpot of the normal draw.
When the EuroMillions results come out?
The EuroMillions lottery draws occur every Tuesday and Friday night of their local time. If by any chance you are the winner, there is no need to make a claim. The funds are almost immediately deposited in the account of the website you used.
That's why it's so essential only to pick reliable and trustworthy websites. It's not only an intermediary to buy your tickets, but also to where your money goes. From there, you may withdraw with your preferred payment method and start enjoying the money.