Among the national lotteries offered in India, the Kerala State lottery is especially popular, and people are always seeking its results. Even those who don't play tend to check how big the jackpot was and who won. In order to let you know its main details and how to win the Kerala lottery in India, we created this article.
Before understanding how to win the Kerala lottery
First, we should let you know that you can play international lotteries such as Powerball from India and receive the money in your bank account. If you live in the Kerala State and would like to know how to win the Kerala Lottery, then this article is for you. Also, it's good to understand the advantages and disadvantages of playing national lotteries.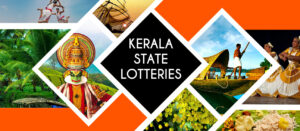 There is a total of 7 lottery games, one for each day of the week, plus six special ones (Bumper Lotteries) in Kerala. That means there's a chance to win every single day of the year if you play. So far, the Kerala lottery made a lot of Indians millionaires, but far less than the international lotteries did.
The master of daily lottery in India
The weekly draws consist of 7 different games, available to everyone who buys its tickets. They have different names, which makes it easier when you search for the Kerala lottery results. They are respectively:
Win-Win: Monday
Sthree Sakthi – Tuesday
Akshaya – Wednesday
Karunya Plus – Thursday
Nirmal Weekly – Friday
Karunya – Saturday
Pournami – Sunday
The top prizes are mostly 50-65 Lacs, with Thursday and Saturday paying up to 80 Lacs – 1 Crore. All tickets can be bought by the price of only Rs. 30 at an approved seller.
Kerala Bumper Lotteries
If you are searching for how to win the Kerala lottery online, you need to know your options. There are more than merely daily draws. The so-called Bumper Lotteries are games that occur at a specific time of the year.
There is a total of 6 different Kerala bumper lotteries, and they are:
Christmas and New Year Bumper Lottery – It always occurs in January or early in February in Kerala State. The tickets cost a bit more than the daily draws: each one a total of Rs. 300. There is a total of 8 series with a big prize which may go from 4 to 12 Crores. Consolation prizes are also given to the players.
Summer Bumper Kerala Lottery – After the first bumper lottery within the first two months, March has a special draw of its own. The tickets have a face value of Rs 150 and are sold in a total of five series. Payments for the biggest prize may vary between 2 and 6 Crore.
Vishu Bumper Lottery – Two months after, in March, the Vishu Bumper lottery offers tickets at face value of Rs 200 in five series. The latest payments were between 3-5 Crore, and the results are released immediately.
Monsoon Bumper – Before we talk about how to win the Kerala lottery, let's talk about the July bumper lottery. It may be easier, as low prizes are paying values such as 500 or 1,000 Rs, reaching up to 5 Crores.
Thiruvonam Bumper Lottery – The Thiruvonam tickets are worth Rs 300 with the first prize reaching up to 12 Crores. Like Monsoon lottery, it also has smaller prizes paying a few thousand Rs too.
Kerala Pooja Bumper – In November, the last bumper of the year for the Kerala lottery occurs. The tickets cost Rs 200 each and there is a total of five series, similar to the other options. The prizes also vary between 2 and 5 Crore for the first place, with a few hundred Rs for the last places.
How to Win the Kerala Lottery [Tips and Tricks]
Regardless of the State they live in India, people are always looking for a way to win the biggest prize. If we are to tell them how to win the Kerala lottery, it's essential to be 100% honest. The only thing that drives a lottery is luck, and there isn't a way to boost chances other than buying tickets.
The more numbers you cover, the higher the chances of winning. However, that also implies higher costs, leaving no trick to beat the others. Imagine that there are millions of people buying tickets, and they all want to know how to win the Kerala lottery.
That's why we recommend, instead of looking for tips and tricks, to look for international lotteries. Websites such as LottoLand award people who sign-up with bonuses. With a bonus, it's possible to purchase more tickets for the price of one.
Also, the player has access not only to restricted daily prizes. Worldwide lottery games such as Powerball pay much more than the Kerala Lottery. In such international lotteries, the player gets bonuses, bigger prizes, and is not geographically limited – what could be better?
Who can play the Kerala Lottery?
Any Indian can play the Kerala lottery and purchase tickets at a local retailer. However, if living in a State where lotteries are banned, keep proof that you bought there. It may be requested before releasing the prize.
As for the other lotteries we indicate, which are played through international websites, there are no limitations. The bet is actually made on the country of origin, which can't be affected by the Indian law. In fact, if you check the lottery payment methods article, you'll figure that it's easy to deposit and withdraw with foreign lotteries.
The other way around isn't possible or recommended. Playing the Kerala lottery is a possibility for Indian players alone. However, it's very unlikely that an international player, with access to Powerball and EuroMillions, would like to try it.
Now you know there isn't a special trick and only way how to win the Kerala lottery. Our suggestion is to conjugate them with international games if you want to play their daily or bumper draws. That way, you'd be improving your possibilities in terms of earnings.